Scroll down for Editor Favorites!
Article by Jacqueline Tang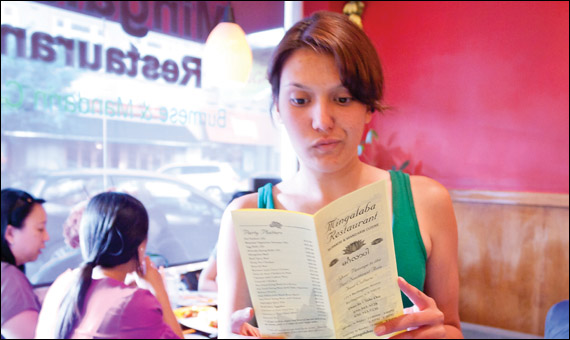 With downtown San Mateo and San Francisco within short driving distance, Aragon High School students have the benefit of relative ease when in the mood for a visit to their favorite eateries. While there are well-known restaurants that students frequently visit, there are also restaurants that are off-the-charts. These are the eateries that are difficult to find and, when discovered, make valuable hidden treasures.
For sophomore Samantha Yick, Yasukochi's Sweet Stop is her hidden treasure. Yasukochi's Sweet Stop is a bakery tucked away in a Japanese supermarket in San Francisco. "Many people don't come here probably just because it doesn't have its own storefront," says Yick. Yick says of how she discovered this bakery, "It's my grandparents bakery, I grew up there." While there are many bakeries, Yasukochi's Sweet Stop stands out for Yick, "It just feels happy. It's inside a Japanese supermarket and there are always people moseying around, and they're all sweet old Japanese people. Their specialty is the coffee crunch cake. It's four layers of white cake with whipped cream and homemade coffee candy." Reflecting on her favorite aspects of Yasukochi's Sweet Stop, Yick says "The family vibes and the yummy food [are my favorite aspects]."
Mingalaba, a Burmese restaurant in Burlingame, is one of senior Adrianne Seiden's hidden treasures. Seiden says of why Mingalaba stands out, "Mingalaba serves Burmese food. Burmese is kind of a niche category of food." Reflecting Mingalaba's unique appearance, Seiden says "It's super sparkly inside the restaurant – all their decorations are sparkly. Seiden advises "Get the basil spicy chicken. It sounds weird, so you wouldn't want to get it, but it's awesome."
Another restaurant Seiden considers a hidden treasure is Kabul in San Carlos which serves Afghani food. "The San Carlos restaurant is literally hidden. Its windows are blocked out and the sign doesn't work," says Seiden. "It looks sketchy on the outside, but it's a family type-restaurant." What makes Kabul a hidden treasure? "The food is unique, [and] their bread is awesome. Their specialty is the pumpkin in meat sauce with yogurt."
Senior Brianna Kim's hidden treasure is Snowee Yogurt in San Mateo. "They serve crepes, some Asian food, like Quickly's does, and they serve shaved ice." Kim says "Their shaved ice is really good, it's distinctively different. In my whole life I've never had shaved ice like this before." What makes Snowee's stand out from other places that serve shaved iced? "They basically freeze a flavored ice and shave it. They don't add the flavoring at the end. The shaved ice machine is really good," says Kim. "It's more like ice cream than shaved ice. It melts really fast and it's really fluffy." Kim says of why others should come to Snowee, "If you want shaved ice, it's the place to go. There's nowhere else close by."
Senior Victoria Patton considers Whispers Café and Creperie in Belmont her hidden treasure. "They serve crepes and a lot of breakfast food. You can also get sandwiches," says Patton. "Their specialty is crepes. My favorite crepe is the Lover's Crepe. It's a basic crepe with Nutella, served with whipped cream and ice cream." Patton says of why Whispers Café and Creperie is hidden, "Its location [makes it hidden]. It's off El Camino and in Belmont, you have to find it. It's not the ideal place to stop by." Why should others come to Whispers Café? Patton says "It's closer than going to Burlingame's Crepevine. It's at the edge of Belmont, near San Mateo. It's not as crowded, [it's] small, and [it] has convenient pricing."
At these hidden treasures, one can find compelling new treats and equally pleasing short lines.

[divider top="0″]
Editor Favorites
Sprout Café
168 University Ave, Palo Alto
Located in the humdrum of downtown Palo Alto, Sprout Café is the place to be on a Saturday afternoon. With a stylistic wooden interior design and a combination of dining tables and couches, Sprout Café provides the feeling of being in both a classy and a relaxing atmosphere. Aside from its gourmet salads, Sprout Café is known for its selection of diverse ingredients that can be assembled in its custom-made salads.
Paris Baguette
383 University Ave, Palo Alto
This University Avenue café serves a variety of Asian fusion pastries despite its Parisian name. Their green tea lattes are fragrant and almost always overflowing, and their eclectic foods include everything from green pea croissants to sweet potato rolls. The spacious café is lit well by floor-length mirrors, which make Paris Baguette the perfect place to people-watch, finish writing an essay, or even take out a special someone.
Nini's Coffee Shop
1000 N Idaho Street, San Mateo
Nested in the suburbs of San Mateo, this breakfast spot offers large-portioned classics in the comfort of a family-owned vintage coffee shop. Nini's eggs benedict are always cooked to perfection, and their "house potatoes" are decked with grilled onions and peppers. The homey atmosphere is perfect for a lazy Saturday morning, and you might only have to walk down the street to reach its neighborhood location.